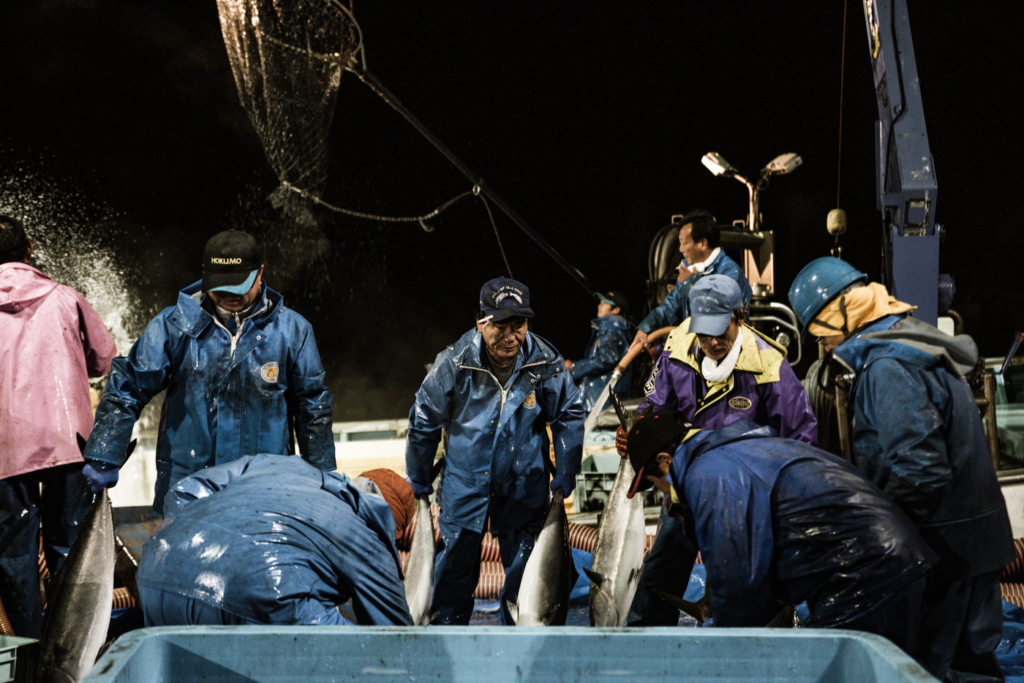 It is run with good Ryoba
Traditional TEICHI AMIRYO

Village Sea of Noto with rich ecosystem. After the blessing, various fishery is run in Noto Peninsula where Mikata was surrounded in the sea.
Town with many fish catches that here Noto-cho is one of the best in the prefecture. Seafood which is a great variety of every morning in town including port of USHITSU and OGI Port known as yellowtail caught in the coldest season of Noto counted in one of the Japan's three biggest fishing ports of squid is landed. Why is fishery such prosperous? In addition, why is fish of Noto delicious? We visited <marine contact center> which studied nature and life of the sea to investigate the reason.
"Warm Tsushima Current to do from the south and cold reman Current coming over from the north. In the Noto Peninsula offing where these two ocean currents cross, it is in place where migratory fish such as yellowtail or horse mackerel is easy to gather. In addition, it features to become gaiurakaiiki where continental shelf spreads out from two marine environment of steep UCHIURA sea area, and crabs inhabit deep place of the depth of the water, too"
It is Keiichi Sakai of researcher that talks so. By environment and the topography of the sea, we can catch various types of fish throughout the year and have abundant plankton becoming bait. The Noto Peninsula offing was found to be suitable Ryoba in the Sea of Japan. Sakai adds like this.
As "it is town which lived by fishing, we acquire knowledge and technique to eat fish to people in town as well as cook deliciously with nature. In addition, port is near fishing ground, and fish are always landed in fresh state to grind TEICHI AMIRYO with master"
Area where TEICHI AMIRYO which is eminent in Japan is prosperous in Noto-cho located in the UCHIURA district. Wave is calm and fish is easy to make an excursion to near the bank for the suddenly deep na topography, and it is said that TEICHI AMIRYO has been already performed at the beginning of the Edo era. We are known as fishery that is kind to nature which this fishing waits for fish with excursion characteristics and catches and attract attention as fishery to enable the sustained use of marine resources from the world.
Traditional fishing called triangular set net. We heard story from Yosuke Nakata of fisherman group <with sunrise University floor> of Ukawa, Noto-cho proud of catches of fish 2,000 tons a year or more.
It "is triangular set net (large fixed shore net) fishing we set big fenced net in offing of several kilos ahead from the land, and to capture fish. We send various types of fish to market through yellowtail, horse mackerel, mackerel, Spanish mackerel, sardine, leatherfish, one year including squid. As port is near fishing ground, it is characteristic of TEICHI AMIRYO that can land fish with being fresh, but we sort fish on ship and arrange and close and work on <we pull blood> to further keep the freshness"
In addition, Noto-cho where fishery that we made use of local characteristic including gill net fishing and squid-fishing fishing, basket fishing in is run in each place. We went to two fishing ports of USHITSU and OGI which represented this ground.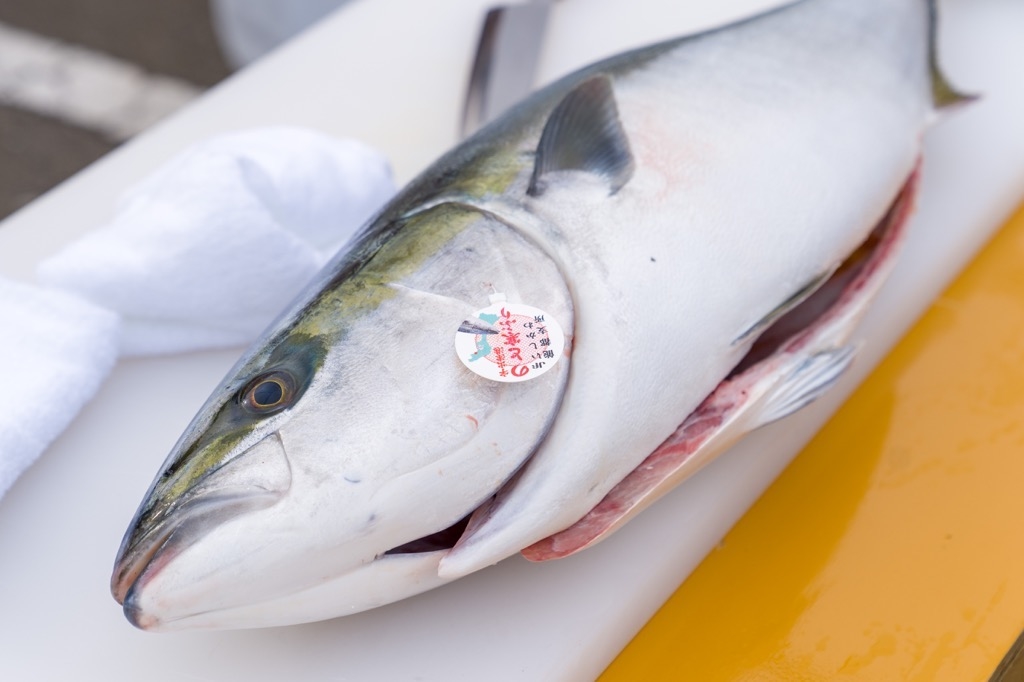 It is the cold season since then and is known
One of the best Ryoshimachis in Hokuriku

USHITSU known as strange festival <ABARE MATSURI> is Noto Peninsula best Ryoshimachi. Fresh fish forms a line at port throughout the year, and Japanese parsley is performed after 7:00 in the morning, too. January when us party was visited is the golden age of fishing. Dozens of brokers raised voice and knocked down local fish including way of Noto nature cold.
Brand fish of the highest grade to make Himi yellowtail caught in the coldest season and two excellent things that it is the Noto nature cold season since then. About way of cold of Noto who was said to be king of winter taste, broker told.
"We call thing more than 7 kg with way of natural Noto cold in produced yellowtail in fixed shore net of the Noto Peninsula coast from November through February. Furthermore, we put tag of "USHITSUKOUNOTO WINTER YELLOWTAIL" to confidence ogaaru 10 kilos or more yellowtail which selected carefully in quality, the freshness by limitation (the early December and the end of January) from December, 2005 in the winter season. Paste of fat is good so that sashimi resists soy sauce and features taste melting away on tongue"
Yellowtail caught in the coldest season of Noto who will have sashimi and shabu-shabu, yellowtail daikon, grilled dish mainly, and can eat. By the way, in Ishikawa, we seemed to call yellowtail which was fish whose name changes as it grows up with kozokura, fukuragi, gando, yellowtail in growth order, and even sushi restaurant where we dropped in at in the middle of trip was transcribed so.
After having observed <the Hall of Science which is the sea crest> which could learn fishery of Noto, one of us visited nearby <Tsu Hisashi> of port of USHITSU to have lunch. It is sushi bar which is reasonable, and provides delicious local fish. We grasp and are with clear soup with egg in 12 kan. We were able to taste the material only by Noto including child charge account of whale and cod other than local fish such as Seriola aureovittata or horse mackerel, leatherfish here, too.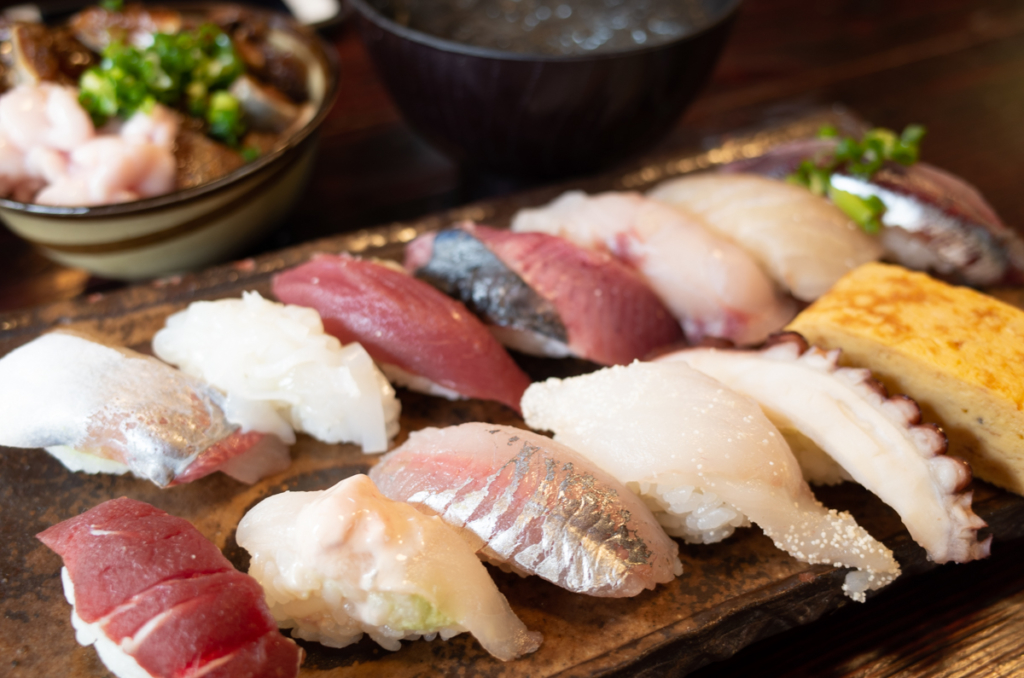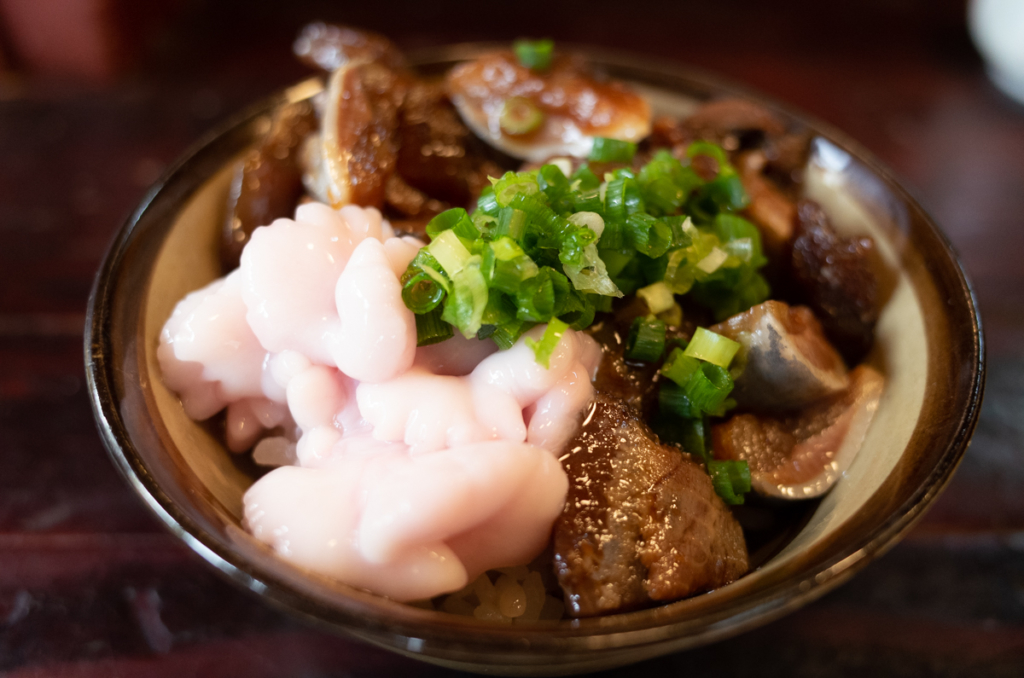 "Traditional dishes of Noto who covered sashimi of cod that we closed child charge account of cod with kelp with child of tala. We can enjoy the tight muscular body with petit petit texture that we did and taste of kelp. In addition, in Noto-cho where fixed shore net is prosperous, food culture to eat meat of whale which entered net still roots. It is characterized by sticky texture of red meat and unique deep taste"
Storekeeper whom mini-bowl of zuke keto soft roe served while talking so with smile. Let alone fresh, delicious fish, warm personality like person from Noto was impressive.
We discovered one fresh fish shop when we walked the town of USHITSU aimlessly. Minitrack stopped in parking lot says <shitahira fresh fish shop> by big letter. About fish of Noto. We asked Masumi Shimodaira of the second generation story.
"Fish in the bottom of the sea such as rockfish and angler, hairy crab or whelk are fried as well as fish such as produced yellowtail or horse mackerel in TEICHI AMIRYO, too. Fish of Noto is full of variety, and it is attractive that some delicious fish is landed in all seasons. Assortment of goods is enriched over winter from autumn in particular"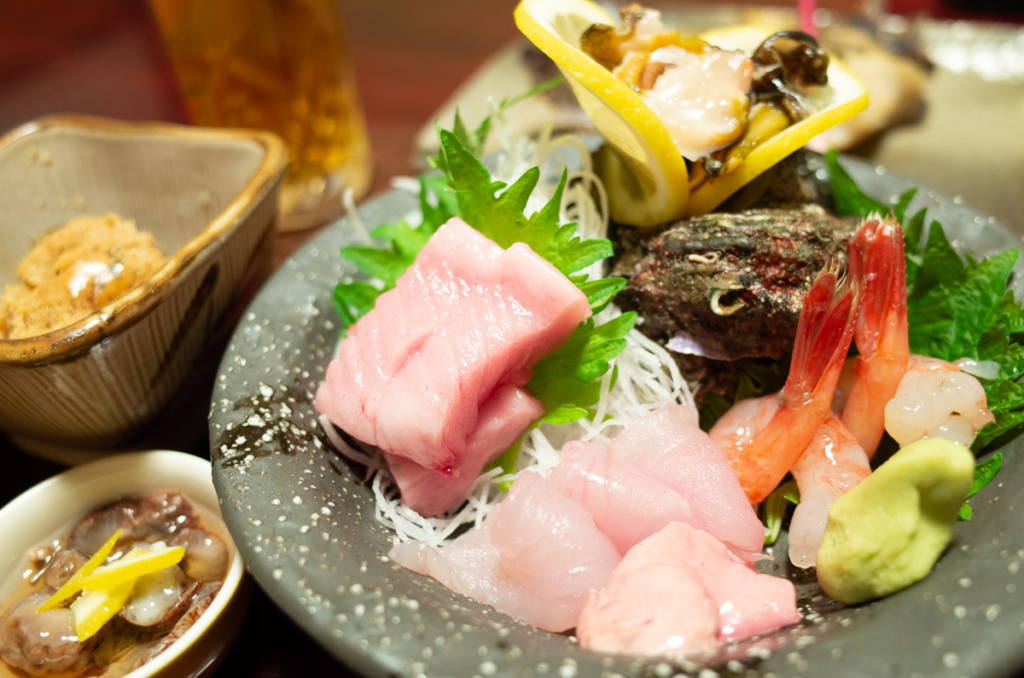 Shimodaira to peddle fish for elderly person living in the mountains. Truck like point seems to be thing using for peddling somehow. We would pile up fresh fish or sashimi from now on and were going to go out on that day. In addition, behaving restaurant seems to run fish which we stocked in morning of the day and will have dinner.
Today's menu is sashimi assortment, deep-fried angler, grilled dish of red garei, contents such as sake lees soup of globefish. Sashimi in particular was enough to know taste of fish of Noto including Otoro (young tuna) which fat fully got on with unrivaled article and with liver of leatherfish. We order warming sake with much effort. We had brand <bamboo leaves> on behalf of sake brewery <Kazuma brewing> of USHITSU. Liquor cooked in Ryoshimachi matches fish dishes very well.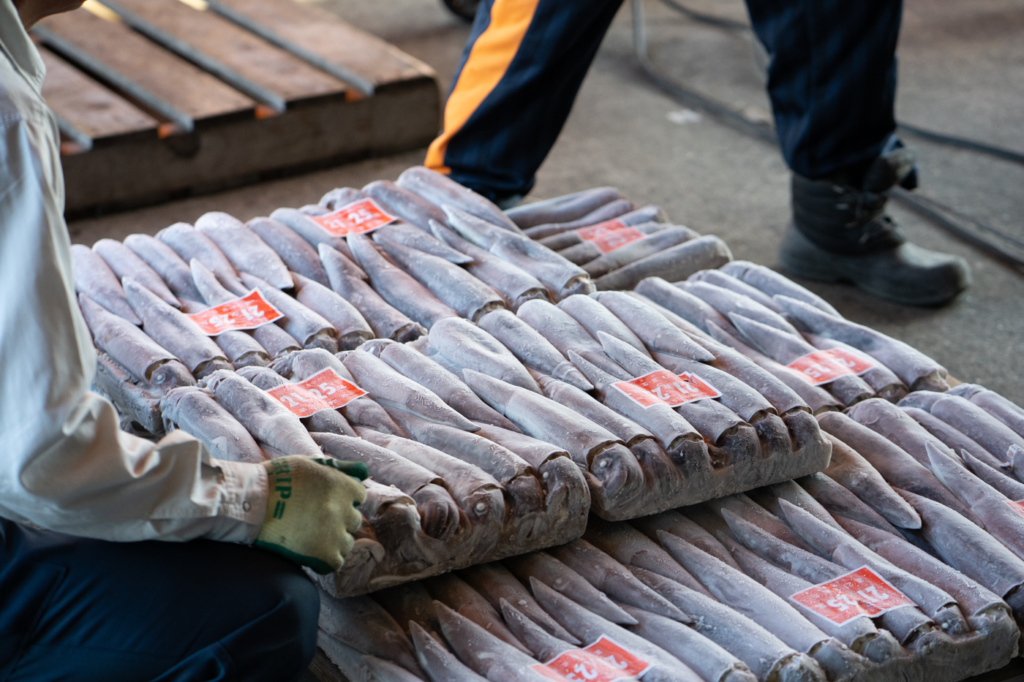 Having been continued since the Taisho era
Squid-fishing fishing of OGI

To TSUKUMOWAN known as one of the best scenic spots in Hokuriku the next day. Port town where it faces gulf to aim. It is one of the Japan's three biggest fishing ports OGI Port of squid along with Hakodate Port and Hachinohe Port of Hokkaido of Aomori.
History of squid-fishing fishing at port of OGI dates back until the Taisho era. For the topography with a little farmland, people of OGI which lived with the help of the sea ran after squid in Japanese-style ship not to have engine yet to Hokkaido. Ship upsizes, too, and squid-fishing fleet of OGI departs now towards the Sea of Japan offing when they reach the removal of a ban day of June every year. Whenever squid carries a lot of, we return to port and depart immediately again when we load fuel and food.
Technique to freeze squid which it caught to enable long voyage just after that in ship rapidly. You became able to operate off the Sea of Japan until it was carried a lot of with squid by quick freezing facilities and deep freezer. This squid frozen rapidly is branded as <SHIP FROZEN FRESH SQUID>, and good freshness and high quality are recognized. In addition, not only deep sea fishing but also squid fishing in the Noto offing sea near the shore is carried out, and squid every season including oval squid and calamary is landed as <raw squid> at port.
We dry grilled gun and single night, and there are many special products using squid of OGI including shiokara, but is got close as delicacy mouth (ikatombi) of squid called mega metal lath in hometown. Taste that taste condensed to one drop of crunchy texture and squid. If we warm by fire and put mayonnaise and shichimi and bake by butter soy, it becomes snacks of liquor.
In addition, it is full of plans only in town of squid including <squid station mall which there is> of opening every year on festival <cool meeting> and April 22, 2020 of squid held in May.
There is Italian restaurant called <Noto X Sicily> near the OGI fishing port. It is Kiyoto Otake that runs. After having spent several years in Sicily, we emigrated to this ground for ingredients of Noto from Tokyo in 2016.
Including "fish, we emigrated for the reason of fresh ingredients being imminent. Fish which was landed when it is city is sent to shop one day after half day, but is available by unit here for several hours. Being particular about freshness for texture. We can assist by aging and cooking about taste to some extent, but it is very difficult when it becomes texture. Speaking of texture, resistance to the teeth of squid of OGI was impressive"
We impress professional of ingredients. Fish of Noto seems to have such power.
Note: Daisuke Yoshioka