It reaches Noyama fishing village
Culture of festival
Noto Peninsula which stuck out of the Sea of Japan. There are many original culture and manners and customs, and, in Noto district of Ishikawa that prospered as doorway of the sea connecting continent and Japan, there remains, and one is held by KIRIKO festival in about 170 districts by the geographical characteristic.
It is festive house-door lantern called KIRIKO that becomes the leading role. We parade around the town while hanging, and saying that we are energetic as usher of MIKOSHI that God is enshrined. Light which is carried on the shoulder in parishioner people, and swings is very fantastic. It is the highlight that characteristic varies according to areas including form and size.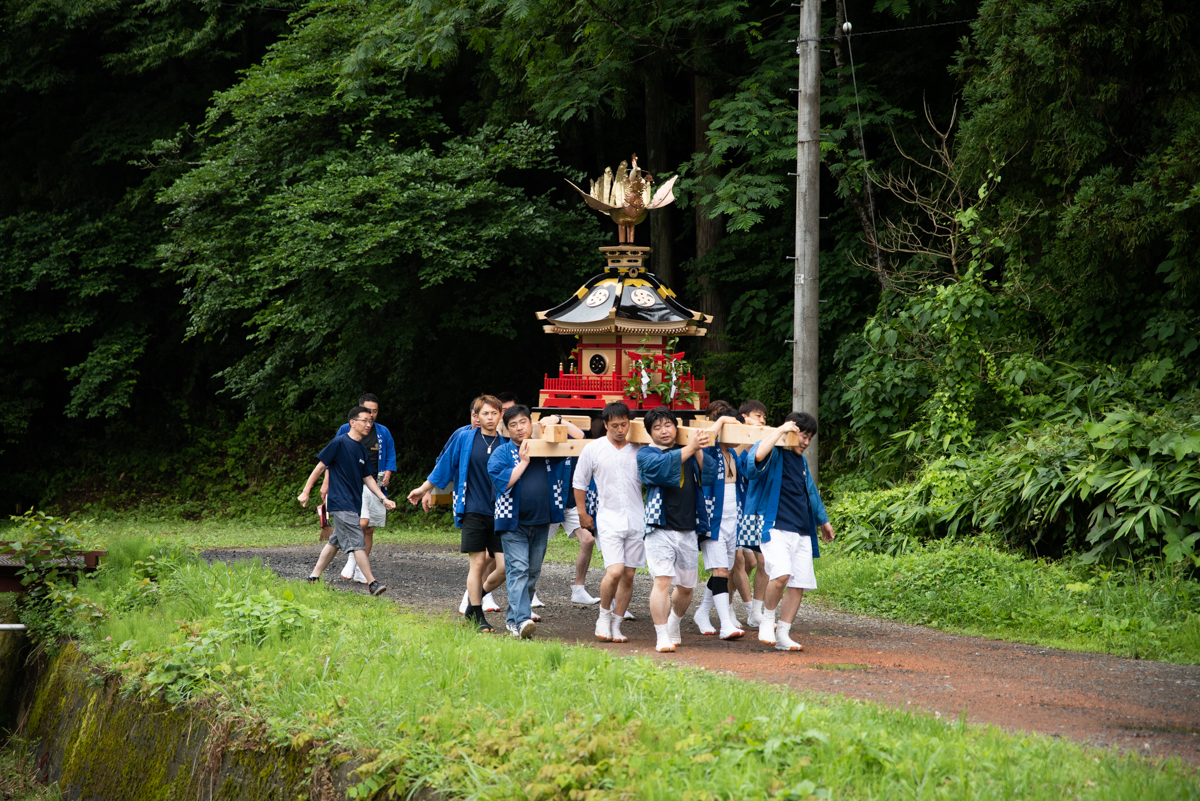 to is simple to "Noto hayasashiya soil" so that is described; person from Noto known as warm personality. When such they become festival of our location, we are devoted and serve night bravely. KIRIKO Festival is pride of person from Noto. It is competition of financial power in competition in strength of parishioner a large number of people, towns in wish, town to want to protect mind of pure prayer to give to keep their occupation, inherited manners and customs. We give body and soul to annual festival while putting such thought.
Noto KIRIKO festival that visitors came to visit from all over Japan since it was authorized to inheritance of Japan as "light (dirt) ri KIRIKO Festival ... of peninsula Noto - enthusiasm to dance". Then we will experience the non-daily world where enthusiasm and fantasy swirl, too.
We cut van of festival
ABARE MATSURI of USHITSU
Noto-cho that is located in northernmost part, Oku-noto of Noto Peninsula. When it is season in this town where old agriculture fishing village culture remains strongly, KIRIKO festival is held almost every week. That appreciates gods by rich blessing in strict nature, and this may be because spontaneously many festivals were given birth to in Notocho by thought of ex-chief priest person who lived tenaciously.
First Friday of July. We visited port town, Ushitsu, Noto-cho of Noto known as way of cold. Mall that many stands stand in a row, and is full of local people and tourists. It is day when festival <ABARE MATSURI> of USHITSU YASAKA JINJYA cutting van of KIRIKO Festival of Noto is performed today.
The origin of ABARE MATSURI is the * rukoto Edo era. When contagious disease was prevalent in this whole area, we thank with errand of God, and what we make KIRIKO and paraded around is informed big bee which got over disease of people in sequence with opening. State that KIRIKO and MIKOSHI rush wildly in intensely is outstanding in Noto KIRIKO Festival, and even dynamic thing is known.
We heard drumbeat out of nowhere when we walked town. KIRIKO and parishioner people which parade around constant rhythm called "tetenkotenten, lever ten ten" in spite of being cutting. One thread needs movement not to be disturbed, and children who got on on the KIRIKO to lead the movement swat drum to let KIRIKO dance boisterously and sound gong (carry) and they blow on flute and are in accord.
About 40 KIRIKO assembles in full force in the Tanagi shore in the east of port in the evening. The opening climactic eve of a festival begins in here. KIRIKO departs towards "unpleasant slope wide place" at the same time as fireworks are washed ashore at 21:00. We dance boisterously with shout of "iyasakayassai, sakayassai" around five Buddhist service with pine torches held at Seiryo-ji Temple of Kyoto on the fifteenth of the second lunar month to blaze earnestly to late-night neighborhood.
We kept off flame which flared up, and, in parishioner who shook off sparks which fell, there was a young woman. We were absent from work for this day and seemed to go home from Tokyo if we heard story. It is a matter of course in Noto-cho that returns to hometown for festival so that we go home in New Year holidays and the Bon Festival.
The leading role of the second day is MIKOSHI. We are accompanied by KIRIKO back and forth and, with shout of "Chaucer, Chaucer", fling against the ground and throw into river and throw in fire. The scene to throw highlight into river from Kajikawa Bridge. Men die by drowning in sequence and bully MIKOSHI without mercy while mobbing in water.
Because it is said that Prince Susanoo that it is enshrined deity of YASAKA JINJYA that does to there likes brave behavior. Parishioner people seem to behave in a brave way for one heart to delight God. 2:00 late-night in MIKOSHI having been put in front shrine. Festival finally reached the finale.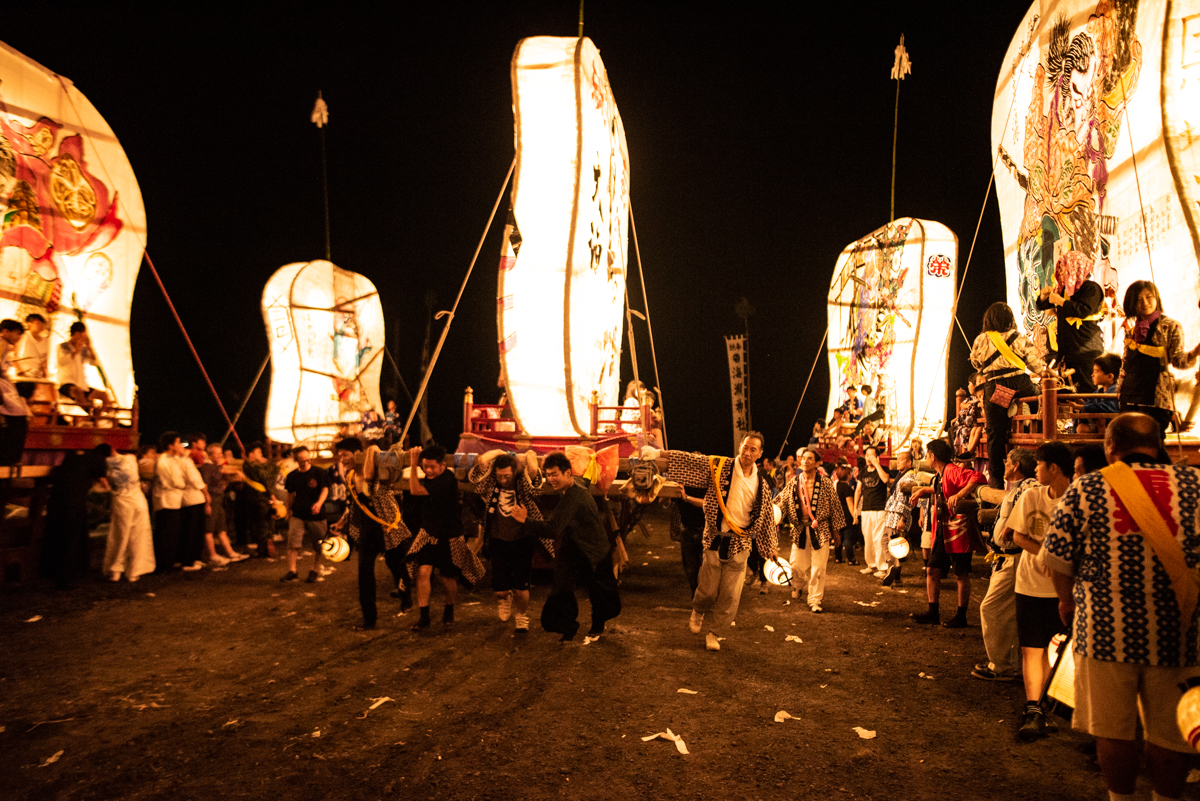 Picture of samurai in combat dances boisterously
Sudden festival
To UKAWA district where TEICHI AMIRYO is prosperous on Saturday of the last week in August. Festival <sudden festival> of fisherman coming to this ground is known even to eccentric KIRIKO appearing in sleeve KIRIKO.
We heard musical accompaniment promptly when it arrived at Sugawara Shrine located in the center of town. Light rhythm with drum and gong. That was faster than which musical accompaniment that we heard by festival of each place until now and led us who were in the all too soon place with the middle toxicity such as high quality doramumbesu at all to trance. "Oldest techno festival as for the sudden festival in Japan" local young people tell joyfully, too.
Beginning of sudden festival is the Kanei era year. As poor catch and sea disaster accident continued, we pray KAISE JINJYA worshiping Sarasvati who is sea goddess for big catch and marine security, and it is done with origin what we carry oriental lamp about smart and manly picture of samurai in combat on our shoulder and dedicated. It is nine large votive lanterns called suddenness that it parades downtown of UKAWA on the day of the festival, and turn around. The feature is that we pick up God using Gohei not attendant of MIKOSHI like KIRIKO of other districts.
We cannot talk about sudden festival without existence of illustrator representing picture of samurai in combat which is yusoka*. "We give suddenness to God. As we cannot dedicate thing which is not people to God, we describe from naked figure in the same way as human being. We help put on kimono from there and keep tool and. It is revealed that pride describing a person's figure in faithfully has been succeeded to by successive illustrator so that a certain illustrator says, it takes one year before we finish picture of samurai in combat.
It is one of the pleasure that local inhabitants and visitors comment on picture of samurai in combat that each town concentrated originality. It is said that suddenness and Gohei are displayed in ship and household Shinto altar of fisherman of UKAWA as bill of big catch security when festival is over.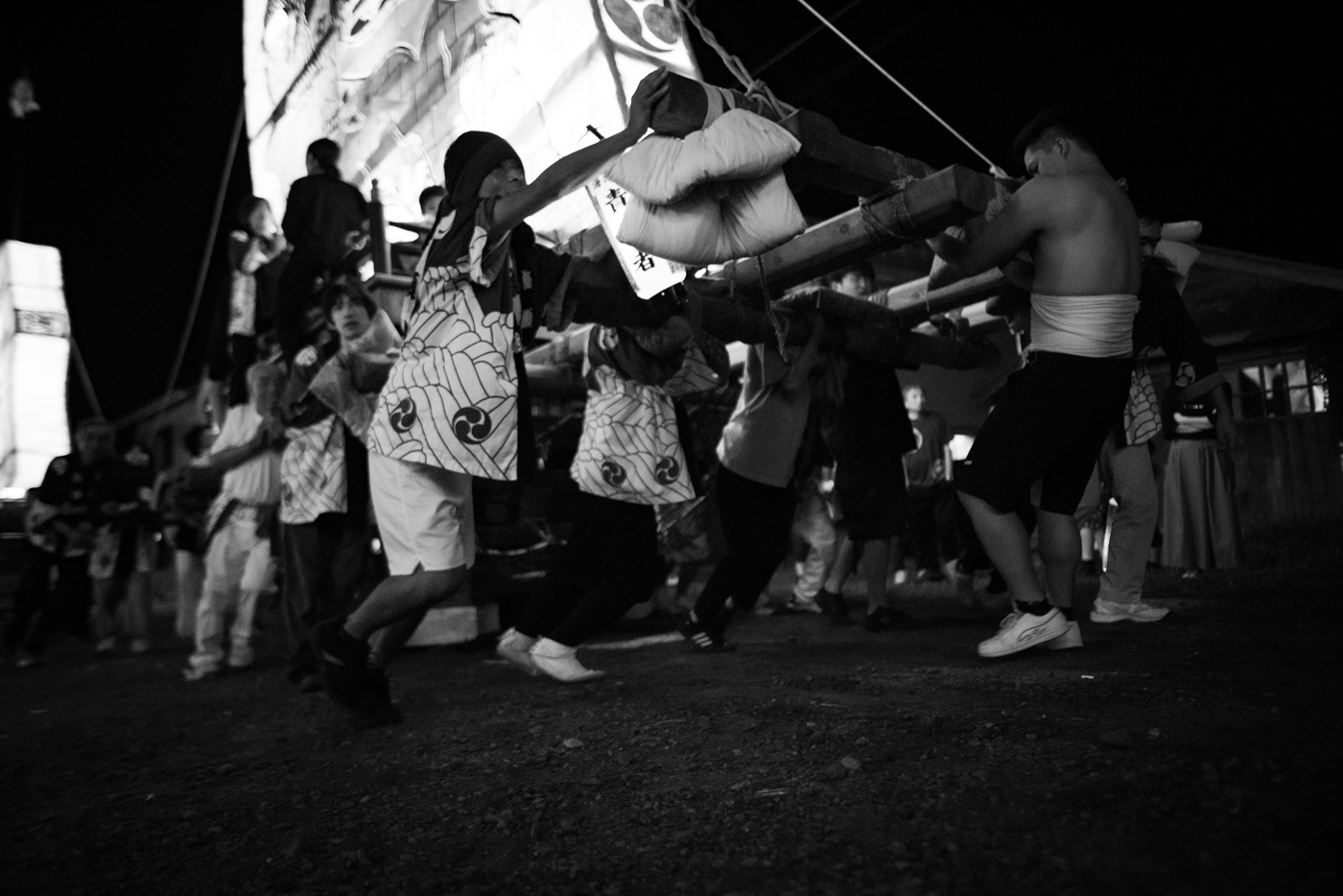 When it was past late-night 0:00 that the climax contained festival. While we enter shrine across UKAWA Ohashi, and Taniwa is jeered at on drum and gong in the precincts of KAISE JINJYA, we begin to dance boisterously intensely. There is thing that bloodcurdling sight that seems to confirm that oneself lives as for the expression of parishioner who shakes suddenness whether you do not break at any moment at all approaches.
"For example, electric wave of carrying is bad, and remote control does not work, and person falling down is going to remind Japanese of vitality when by shaking that instinctively. It is Miyaji of KAISE JINJYA that tells, act giving up raises life of we Japanese, and there is feast for God. As for the festival to introduce into importance of life, enthusiasm continues to neighborhood in the early morning.
It is not only KIRIKO
Festival of Noto-cho
Noto-cho greatly separates and is comprised in USHITSU, UKAWA (MIZUHO), YANAGIDA, OGI, five areas called MATSUNAMI.
In YANAGIDA district in inland, we hold <YANAGIDA TAISAI> which large KIRIKO which becomes 13 meters in height goes around in darkness calmly. Simple KIRIKO that only God crest was drawn on lucky sign letter, the back in the front conveys simplicity that seems to be village forest of Noto different from festival of Ryoshimachi again. Scene to waver light of traditional Japanese candle is big characteristic of YANAGIDA TAISAI.
<TOMOBATA MATSURI> which prays for marine security and big catch when it is spring in OGI district that is famous for squid fishing is performed. Mifune Shrine that it is near the port of OGI to become stage. Nine ships which published five colors of wind socks and great climb of 20 meters in height put together for flute and drumbeat, and they run through the gulf.
It is TOMOBATA MATSURI of rare style, but KIRIKO Festival seems to finish in mainstream Noto vividly while local inhabitants connecting about 500 pieces of paper, and big flag which is symbol putting paper of gold and silver, and painting with color.
In MATSUNAMI located in the northernmost part of Noto-cho, the boundary with Suzu-shi, <MATSUNAMI NINGYō KIRIKO LANTERN MATSURI> competing for look of doll decorated on the front of KIRIKO is held. While each town including historical person and old and new characters shows original sense, we build up doll.
With MIKOSHI in the lead, KIRIKO of 14 big things and small things makes line when we finish Shinto ritual and goes round in the town. Examination of doll begins at 2:00 p.m. When it is night, doll is lighted up and can see different expressions in the daytime.
Besides, unique festival is held in Noto-cho including <SAKATARUGAESHI> scrambling for sake barrel in <IDORI MATSURI ri> which disparages rice cake, and prays for good harvest and loincloth one order through the year.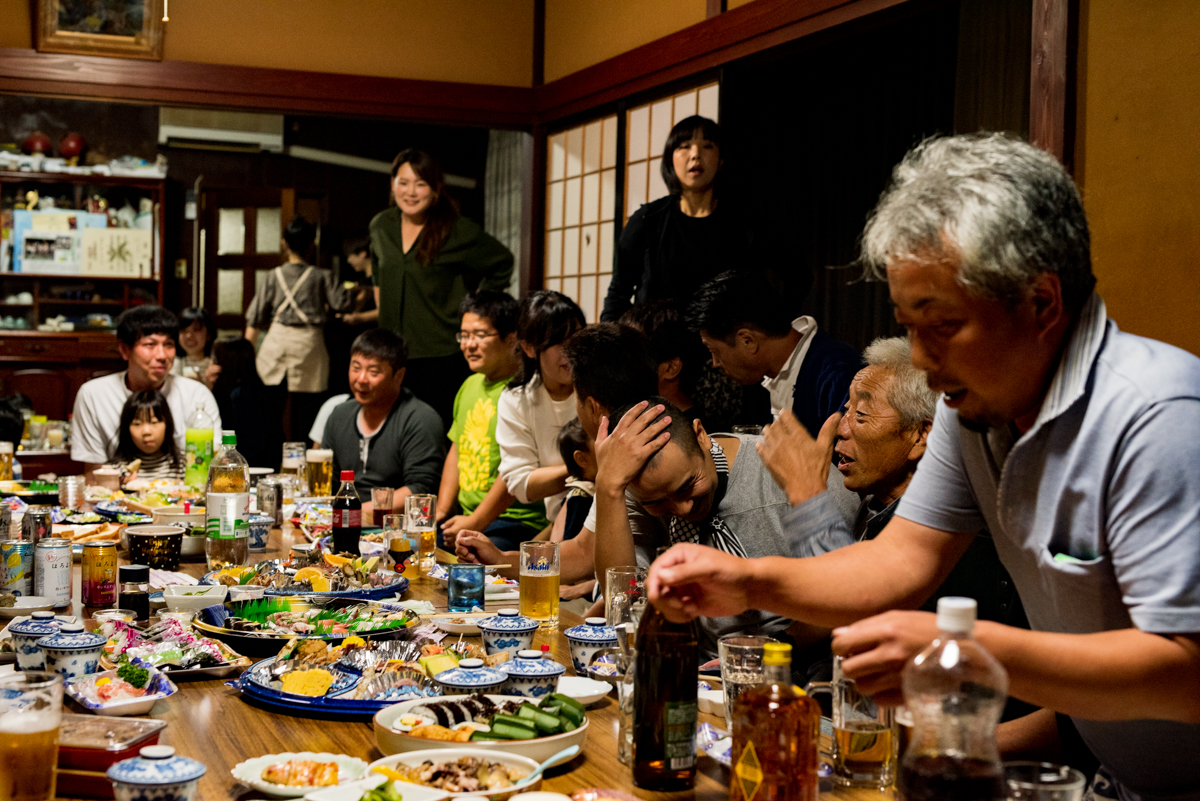 Manners and customs of "yobare"
He/she tells
It is service culture said to be <yobare> that is indispensable in talking about festival of Noto. yobare is manners and customs to invite people who are taken care of by relative and acquaintance, work on day of festival to home, to serve <gottsuo (feast)>. While people who gathered exchange liquor, we have a heated talk.
It is each shi ttagottsuoha domestic whole body product with rich ingredients of Noto. Women start preparations for a few days of festival and get ready for thing dishes for dozens of hard while male servant carries KIRIKO on the shoulder.
We see house which lowered lantern to the door well when we walk the town on the day of KIRIKO Festival. This becomes mark of invited guest in meaning of "we do yobare".
We experience yobare by festival of Miyaji district on that day. As for dozens of tatami, nearly 40 people gathered in parlor whether there would be when we passed through corridor by guidance of woman thought to be wife, and yobare has already begun. The scene was like meeting of relatives of New Year holidays and tray and confirmed bond by surrounding low dining table together and felt that it was important place that deepened the friendship.
"yobare tekudasai "and person of thing which invited, and turned around and town told that we drank pleasant liquor while joining neighboring uncles" with nest of boxes stuffed with rice cake and ohagi person of house which did yobare in old days". Anyone cannot participate, and yobare is originally thing gathering only in invited people. There was a German man that Noto-cho did not have connection at the same seat, but seemed to come to be invited while we repeated interchange with landlord for several years.
Even sudden festival of UKAWA experienced yobare. There is relationship on that day and participates in several yobare. It is ladder of so-called yobare. In addition, by this festival, we saw figure of children in particular well. "yobare makes a social study. Voice of people in town where children learn how to get along people from through this seat. We may be surprised by prominent communicative competence of local people when we surely take a trip to Noto-cho.
By participating in yobare, do you come to be able to understand essence of service since childhood? Or does it absorb behavior of adults participating in yobare with nature? In any case it seems to be certain that yobare is useful for the personality formation of children.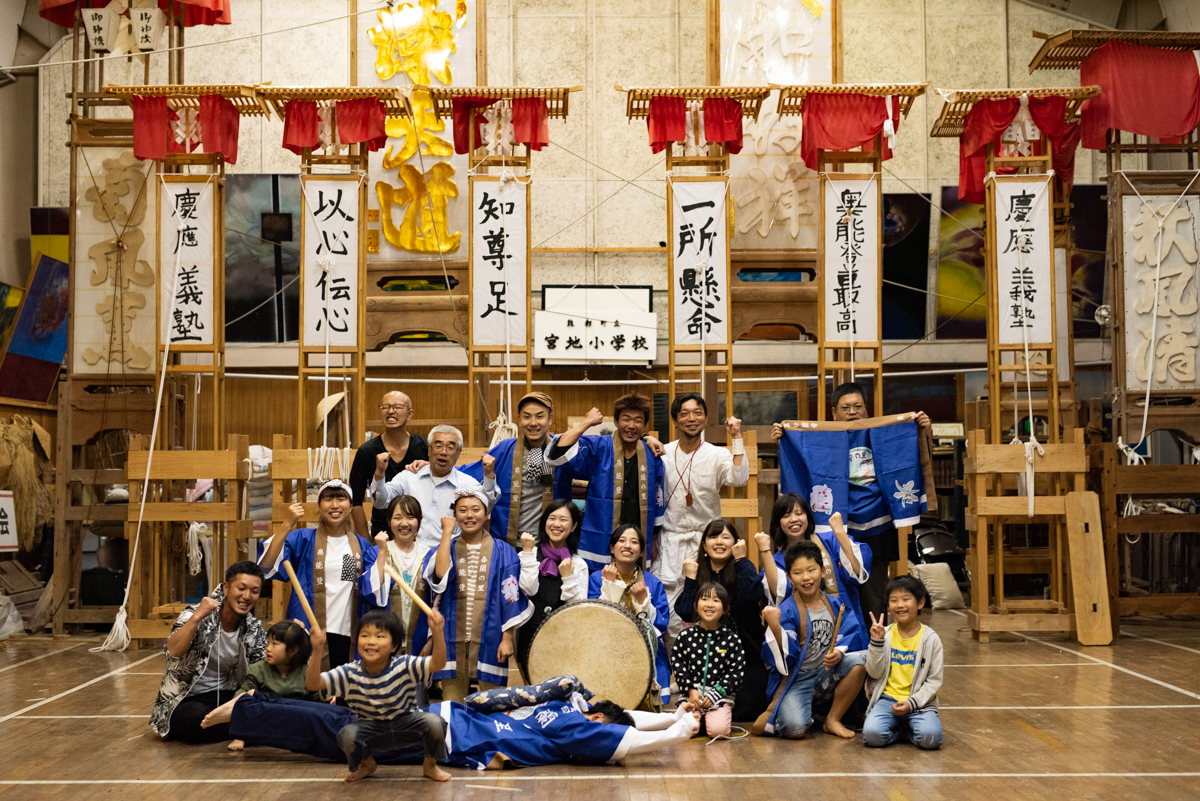 Finally. In fact, we had an experience of carrying KIRIKO on the shoulder as helper without enough hands by a certain festival this time. Parading temporary interval. Sense of accomplishment when it was over although we were not able to move by fatigue for a while was considerable. Taste of liquor which we turn together and drank is not forgotten.
It is three years ago that one of us came to visit Noto-cho. The first age just watched festival, but we came to talk with local person in the next year and we were invited to yobare this year and, fortunately, were able to carry KIRIKO on our shoulder, too. Why is that? Surely is this not because by coming many times, connection with people in town was built naturally? And for that to know festival culture of Noto deeply, was helped.
You worship, and what kind of experience can you really have next year? Expectation will increase now.
Note: Daisuke Yoshioka