For seaside excellent sake
If country called Japan did not have liquor or when there was not rice which was raw materials of liquor, Japanese civilization might have done not develop to here. Drinker thinks of what thing heartily whenever we come across excellent sake. And probably people in Noto may agree with uh-huh, too.
According to "village forest village Sea portal site of world agriculture inheritance Noto", there are 20 oath sake breweries only in Noto Peninsula, and brands seem to exceed 100. Taste and flavor are named mellow system, and taste ranges from cajoling words to hot.
It is court official group led by Noto chief brewer that supported sake brewer of such Noto. Noto chief brewers move, and they are live-in, and they perform sake brewing to each places of the whole country during the winter slack season for farmers while usually running agriculture. This system begins at the middle of the Edo era, and it is said that we follow until the present age. It seems to be good at Noto chief brewer cooking strong liquor of taste, and high technique is with one of the chief brewers for Japan four generations. Such Noto chief brewer birthplace is here Noto-cho.
Noto-cho that is almost located at the tip of Noto Peninsula has ports such as USHITSU Port or OGI Port which it is the cold season since then, and are famous to boast of catch of fish of one of the best squid in Japan to. Area is the second largest at 273, 27km in Noto Peninsula, but population about 17,000 people (as of 2020). We are surprised while being town which can never say that it is big because it is that there is three liquor brewing.
It is revealed whom sake brewery is doing sake brewing for if they see the location, but, as for each 3 sake breweries of Notocho, port is located in place where mall, consumers who are fragrant, and drift of the sea are near soon.
The training of young sake is right in the middle and goes round sake breweries looking for excellent sake of the town of seaside.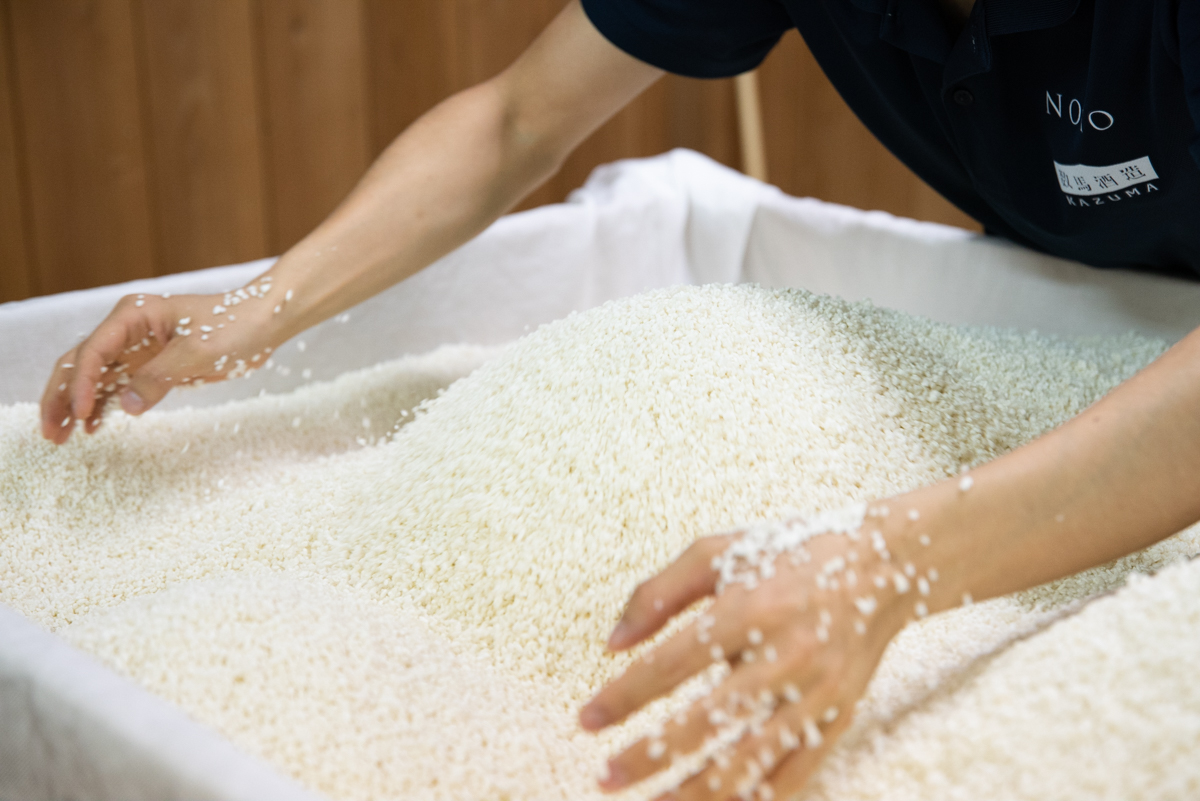 It is MATSUNAMI brewing in Matsunami, Noto-cho cause of cold rainy dripping winter sky, at first, to have come. Noren of "Mount Oe" which is representative brand of brewing streams in a certain personality main building along way.
When pull rattle and sliding door, voice that "Hi" is light. It is young proprietress that invited with lively state saying "I am just squeezing the most favorite liquor today". Though we have looked puzzled for the word to "squeeze the most favorite liquor" for beginner of visit to sake brewery, according to young proprietress, "anyway, to observe", we advance to storehouse.
Sake brewery of MATSUNAMI brewing is small but cozy so that young proprietress says, "house is really eyeshot". It is approximately 15 minutes that it takes to go around storehouse around while hearing explanation. As tempo is good and explains, even beginner who does not know a lot about the making of liquor can fully enjoy. In line of flow which is smoothly familiar with body even if we observe tank and placement of workshop that it is calculated, and have been fixed by longtime experience, feeling is good. Tools which we continue using all the time since the formation in 1868 (Meiji 1) are cared all for properly and are behind fixed position comfortably.
Today's eyeball "squeezes crucian carp" what read QR cord installed in each place, and look at video of work that is not performed on that day, and arrived at last while checking liquor mother breathing in tank with bubbles; dearu.
Well, based on story taught by young proprietress once here, let's easily explain how to make sake.
At first, the making of sake begins in place to polish rice with rice. Large brewing sake from the finest rice, brewing sake from the finest rice and name are replaced by this rice cleaning condition. After having let you flood, we steam rice which we polished in conformity to liquor to cook each with pot. Rice which steamed is carried to room called malting room (koujimuro), Aspergillus oryzae omabushitewassewassetomazerareru. Microorganism spreads to rice when we leave in room which we made high temperature for a certain period of time, and ricemalt (grow on) is completed. Afterwards, we add yeast fungus and further culture steaming rice and water, completed ricemalt in tank. This causes liquor called liquor mother (shubo). This liquor mother decides essence of taste of sake in mother of liquor like letter. It is evidence that yeast multiplies well that bubbles.
By the way, question why ricemalt and yeast and two bacteria enter is heated. As this is different in ricemalt, role of each yeast. Role, yeast fungus letting you saccharify starch of rice as for the Aspergillus oryzae have role to let sugar make alcohol fermentation though we cannot saccharify starch by oneself, and each bacteria perform teamwork with it is sake structure. Therefore saccharification and alcohol fermentation of starch happen at the same time when we put liquor mother, steaming rice, ricemalt, water together, and unrefined sake which is model of sake is completed. And transparent liquid which squeezes this unrefined sake, and was made becomes sake.
Of the last squeeze, and work includes some methods, and "squeeze crucian carp" by MATSUNAMI brewing since its formation, and take toiu method.
Way of squeezing that squeezing repeats Hotei that put unrefined sake in the cistern of wooden slim liquor called "ship" and to put pressure and squeeze crucian carp out of the top slowly and carefully. As they hang pressure slowly, time suffers from until the completion a little, and, on the first day, the second day and both taste and deepness change. (we finally mix in one barrel)
We think that we seem to take time when there is a few while Kurando who regrets while we sleep, and remained sake brewer squeeze liquor and listen to sound of shitoshito dripping liquor that it may be valuable time to fix mind and body for builders in this time to wait for liquor which resigns itself to heaviness of nature, and is squeezed.
Visitor cannot drink fresh liquor, but smells only flavor for goodwill of young proprietress. Sweet smell of fruit which is eloquence to be digested just before that surrounds just to put some faces. What fresh and young! While there is sweetness, we make dignified and are refined. It is a shame that we express this as banana simply that it is fruity. Meaning that sodomy and sensuality Masaru said to, "we like most" was handed down through flavor pressingly.
Well, we come back to main building and are long-awaited sampling thyme. Secret base-like space that redecorated courtyard looks when we open "MATSUNAMI Bar" which young proprietress points to saying it is saying "we hit corner and made space" and sliding door written. When cool air looks up pleasantly, rain drips from the sky of dull color of Hokuriku. To be able to enjoy Tsunouchi chio while feeling outside wind for heavy drinkers, the greatest luxury. It seems to be continued drinking forever while cooling flushing face.
Sampling can do sake tasting with three kinds, small sake cup free. Shooting is 550 yen, and corner can taste three kinds of liquor if a lot of glasses are plentiful. Was standing bar by unfortunate rain in main building, but that is also taste. As for one cup while we look at cityscape of glass door over there, feeling is bar of Edo.
"Flavor is entirely different again when we drink with wineglass. Well, this cannot but put its shoulder to the wheel as young proprietress says, we will have from which. We fully enjoy to great brewing sake from the finest rice, pure mijiu, liqueur and purchase souvenir and are cheerful.
In the most impressive one, young proprietress you like liquor of MATSUNAMI brewing, and I feel unbearable. While do not say lines that was able to decide, and hear actual feeling explanation that stayed; is over in no time at time to drink, and to compare. Though we laugh saying "visitor stays too long", just just this sits down relievedly (in standing bar) and puts away in the personality.
As for the founding, it is 1872 (Meiji 2), Kazuma brewing right by port of USHITSU to have come next.
In sake brewery which "acts violently, and assumes taste of festival" and familiar brand "bamboo leaves" (chikuha) representative in hometown, we are loved for a long time by person of Notocho. We get prize in SAKE section of wine contest "international wine challenge 2015" that "bamboo leaves" is one of the world's largest and are liquor which attracts attention from the world.
In the first place sake is liquor made only with rice and water and simple material called ricemalt, and rice of the ground, taste of water of the ground are reflected directly. It is Terroir of place to say, and that is connected by wine in the powerful charm to enjoy liquor every area. In these days when both traffic and information became convenient, sake breweries which stocked rice from the whole country increased in pursuit of more delicious liquor. Still it is said that we continue with maid in, Noto by Kazuma brewing.
"Raw materials of our liquor are things of Noto. We stock spring of former Yanagida-mura, liquor rice of contract farmers of Noto Peninsula. Consciousness for Noto is strong."
President Kaichiro of 33 years old (as of 2020) answered so flatly slightly. It is next takaigaattatoiumodearu for Noto.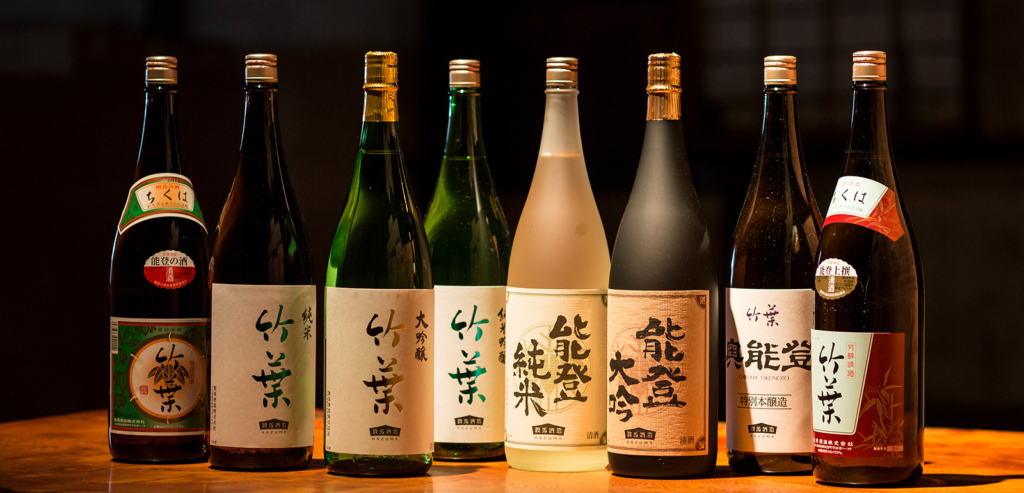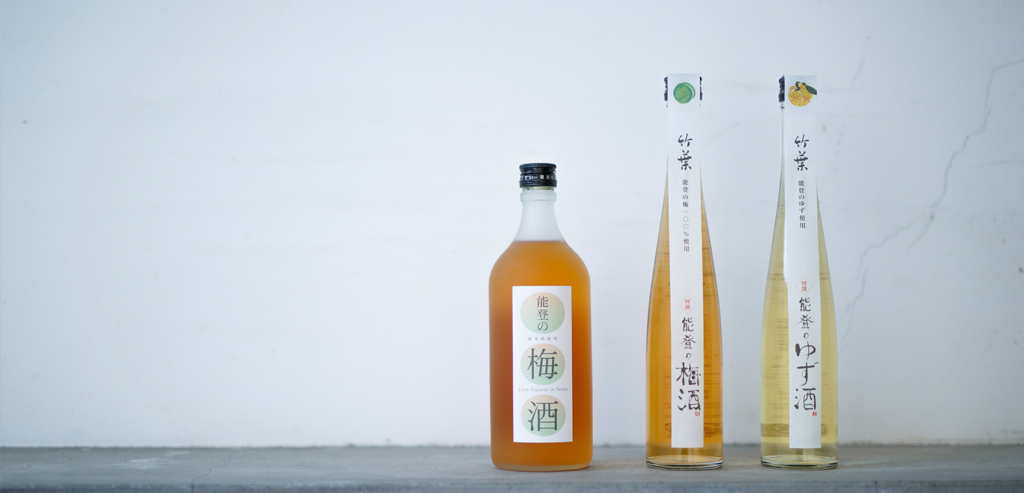 By the way, as for Kazuma brewing, it is revealed that we sell multi-kinds just to look at website though representative liquor is "bamboo leaves". Design of package is refined slightly, and a lot of limited liquor freezes, too. It will be why.
"After all, as for our characteristic, both chief brewer and court official are points that all the members are employees. Employee is young with average age 30 years old as of 2020. We think that it is important for both making of delicious liquor and Noto to make stable work as company."
In the first place, in sake world, important warehouseman of storehouse did not do sake brewing basically. It was form that chief brewer who came over in winter completely undertook, and past sake brewing has been performed as "seasonal thing". However, in the first place agriculture was possible by technological change during winter or young people who did not make agriculture work increased. Hands who carried sake brewer roped by just that much only during winter decreased. Aging advances to chief brewer, and, in this situation, the technical succession is dangerous. Style that "warehouseman chief brewer" that warehouseman oneself became chief brewer and warehouseman employed chief brewer and court official as employee has been produced by such a critical background. Kazuma brewing takes form to employ chief brewer and court official as employee, too. It is Kazuma brewing style that we perform the making of liqueur and the making of soy sauce that we made use of technique of brewing in to bring about stable work through the year, and of course is particular about raw materials of all Noto.
More unique one establishing system called "responsibility brewing" that one employee of brewing section can teach 1 tank, freedom liquor. Therefore liquor which was full of young hot thought as limited liquor comes up every year.
Surely they "want to match with such dishes" and "want to give that child", and "what happens if we cross this and this" Anyway, we pour all question and wakuwaku into one tank, and we put, and, dattari, great deal of effort will raise liquor literally. One way or the other, the finish may be capricious, but uniformity is the situation that is not done, and pure research feeling and unprecedented thing often bring about innovation.
Liquor to have in sampling space adjacent to storehouse in the last was liquor with dream that blew up image of the scene that drank dishes and the liquor to have together all. Furthermore, ear of rice shook while doing when we heard that it was all thing from Noto and was finished when with just eyes, and tracing way where we just came to and wanted to imagine scene that clear stream drifted to.
Sampling space serves as sale, and local person comes without the whole dying out during sampling. Good circulation to be connected in thought that we want to return to area simply because we have been loved by local person, and to be connected in the activity being loved again in hometown rotates. It is tradition innovation, Kazuma brewing.
Finally it is Tsuruno brewing shop of Ukawa, Noto-cho that came. It is brewing to enter on way along UCHIURA of calm scene, and to be located at mall old immediately even in winter. In the next fishmongers, fleshy fish is dried in a row and looks at the sky in the way that cat and grandmother basking in the sun under the fine sky cover in winter.
In the Tsuruno brewing shop, court official, the eldest son are cozy storehouses called court official and representative duty, the eldest daughter in proprietresses chief brewer, mother the second daughter in sake brewery where woman chief brewer makes liquor alone in Ishikawa. As we remain sake brewer who was particular about handcrafting with traditional tool, and finished liquor does not blend, we can enjoy taste with fluctuation in good meaning. On the other hand, thorough low temperature management is particular from predecessors in the family line and can taste stable liquor through the year.
"After all, our biggest characteristic is place called woman chief brewer. As there are the careful attention only by woman and delicate sensitivity, we think that bitterness and added flavor in the course of the brewing decreased. Let alone liquor having local person satisfy, we want to make liquor which woman is easy to drink with viewpoint only by woman chief brewer."
In busy season to be able to be also known as first in one year on that day, visit to sake brewery gives up. On the other hand, we were unreasonable and heard some stories from Shintaro of representative. Meanwhile, local person opens rattle and sliding door many times and visits shop. As he does feeling "that there is" rather than all "hello", and Shintaro copes for feeling called "haiyo", it is like relative at all (it might have been really relative). Anyway, no persuasive power that "there is" of a word only than words that sat up straight "got close to in hometown" is big. Feeling was very good for time to wait slowly while watching fire to pop in room with hearth.
It "is sake matching Japanese dishes in the ultimate that aims"
As for the liquor of Tsuruno brewing shop, Shintaro answered the last question whether wanted you to enjoy with clear eyes with what kind of meal in this way.
"Sake is easy to drink, and we are matched with various dishes, but our liquor wants you to enjoy with delicious fish. We want to cook liquor matching Japanese dishes thoroughly."
Was relatively unexpected answer these days as it was reputation of sake that matched dishes which were semi-Western style state state, but "sake which ultimate, meets Japanese dishes." It is very hard-boiled and is wonderful sound. If it is possible for sake that it is attractive, but takes almighty characteristics to match anything seriously, and it may be said that it is, "Japanese dishes are these", anyway, we want to drink. Interval wanted to support curiosity naturally.
As for the visit to sake brewery, only as for from April to November, register in Tsuruno brewing shop, is approximately 20 minutes including explanation. Reservation is necessary by one week. Sampling is 500 yen. We can sample a certain liquor, all how then.
Obedient flavor and flavor, sensation in the mouth have good in mikogochiga very softly. And it matches ... Japanese dishes well when we match with Japanese dishes. It is liquor which further enhances charm of Japanese dishes more called this. Claim is not strong, but there is security that is there quietly and of course advances to both liquor and meal. The word "sake matching Japanese dishes in the ultimate" flashes across head incidentally. And diagram called "person itself of sake = Noto matching Japanese dishes in liquor = ultimate of Tsuruno brewing shop" floats. After all, we savored again when liquor was thing which people aroused.
Liquor of person from Noto temperaments
Noto Peninsula is peninsula where a variety of living things which were authorized to world agriculture inheritance inhabit. And the variety seems to be reflected in sake structure somehow.
Preconception to have few differences was smashed quickly because it was the same town and it was unique and was able to fully enjoy taste that was rich in variety in each. As liquor to be able to drink by time is different, it is sake brewery circulation letting you come again.
It is to like all liquor not to change in any storehouse. In visited storehouse, anyone sincerely talked about their liquor joyfully, and reliable warmth to be when we talked about somebody close not products stayed for the words. It is wonderful to be able to talk about so their things to make, and really delicious thing will be born from such a mind.
Therefore memory is always clear blue sky for some reason though it should have been trip in winter cloudy sky. We remember taste of liquor, and it may be good to complete trip to Noto. .
Note: Yuko Tsurusawa