Noto is one of the leading trapping fishery place in Japan. This fishery uses habit of fish and is fishery kind naturally that we wait for fish with excursion characteristics such as yellowtail tuna cod horse mackerel mackerels with fixed net in the sea and catch. Above all, it is said with "USHITSUKOUNOTO WINTER YELLOWTAIL", and yellowtail of the freshness preeminence more than 10 kg landed from December through January in USHITSU Port is branded.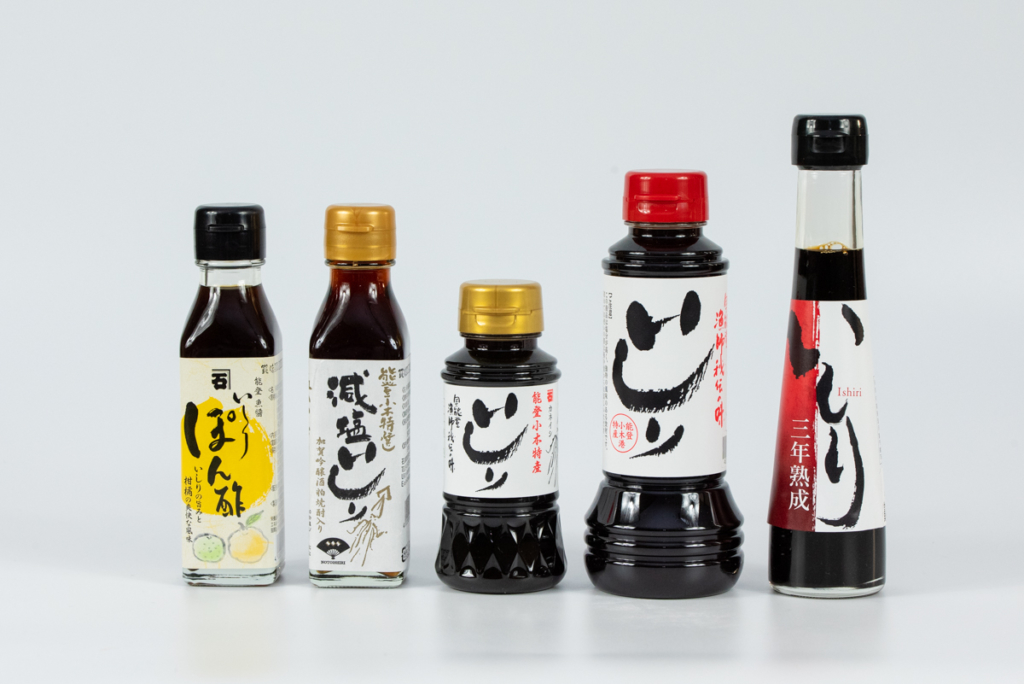 nichihonsandaigyohishio "ISHIRI SOY SAUCE"
"ISHIRI SOY SAUCE" which equals "sandeel soy sauce", and is counted in the Japan's three biggest fish sauce "shottsuru." In Noto-cho proud of unloading of the Sea of Japan side's greatest squid, "ISHIRI SOY SAUCE" which assumed the internal organs (grounder) of this squid raw materials is mainstream.
Unique flavor and taste ingredient are included in "ISHIRI SOY SAUCE" which we let a large quantity of internal organs which occur when unloaded squid is processed ferment with salt, and wisdom and experience of ancient people to make seasoning laid. We include free amino acid which is taste mix in large quantities and there are many antioxidant material and taurine, low molecular peptide and is included. In addition, existence of rise in blood pressure inhibitor is confirmed, too, and possibility as pharmaceutical products is investigated.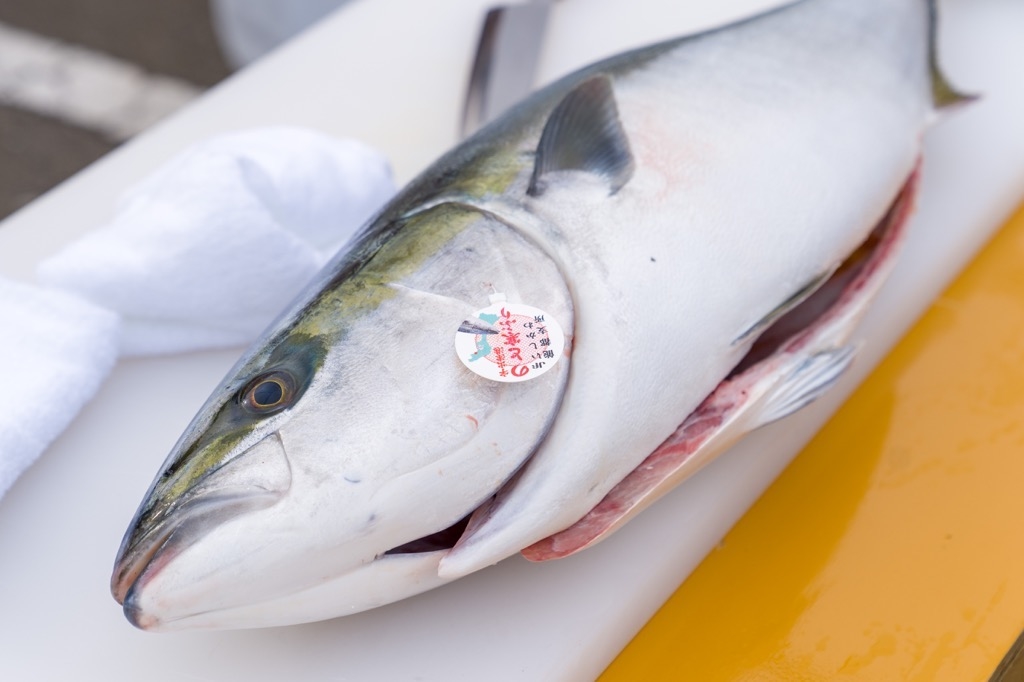 Fresh fishery products including "USHITSUKOUNOTO WINTER YELLOWTAIL"
It prospers for a long time as center of fishery, and squid-fishing-centered offshore fishing industry to sail out fishing in the offing of Hokkaido let alone coastal fishery, the Sea of Japan mainly on more than 27 fixed shore nets is prosperous now, and there are many numbers of landed fish class, and seasonal marine products are towns of the sea to be able to enjoy.
Particularly, the finest "USHITSUKOUNOTO WINTER YELLOWTAIL" unloaded in the winter season attracts attention as production center brand.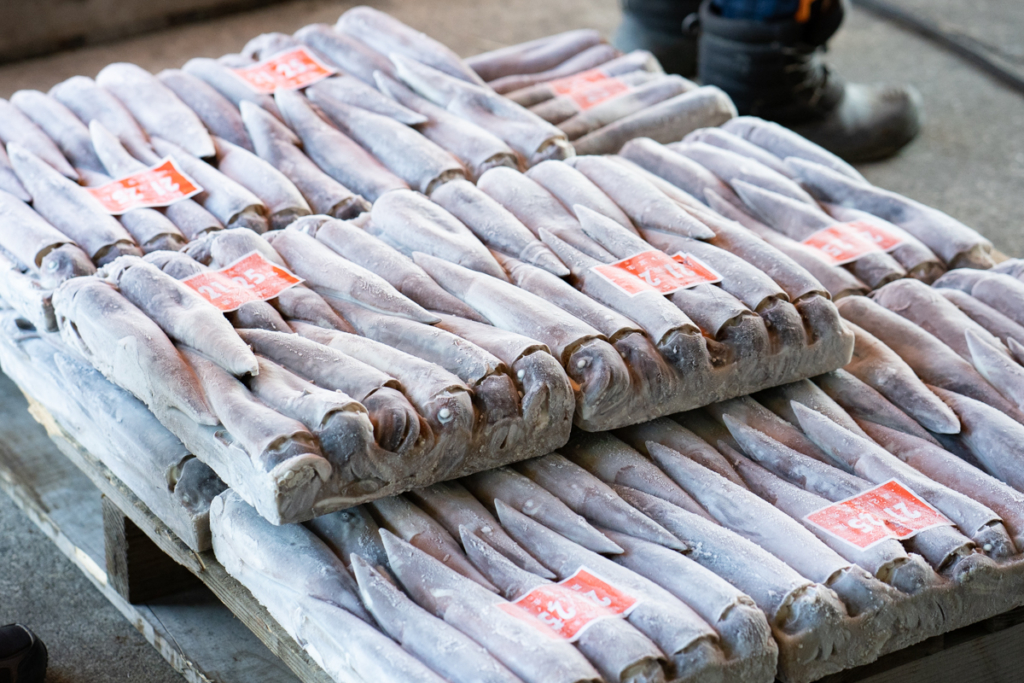 OGI fishing port "SHIP FROZEN FRESH SQUID"
Ogi, Noto-cho district becomes base of the Sea of Japan side's greatest SHIP FROZEN FRESH SQUID. The freshness remains good to freeze produced Japanese flying squid at -40 degrees Celsius in ship rapidly. "One inboard freeze squid" is the manufacturing method that Ishikawa fleet thought out, and it is famous brand nationwide.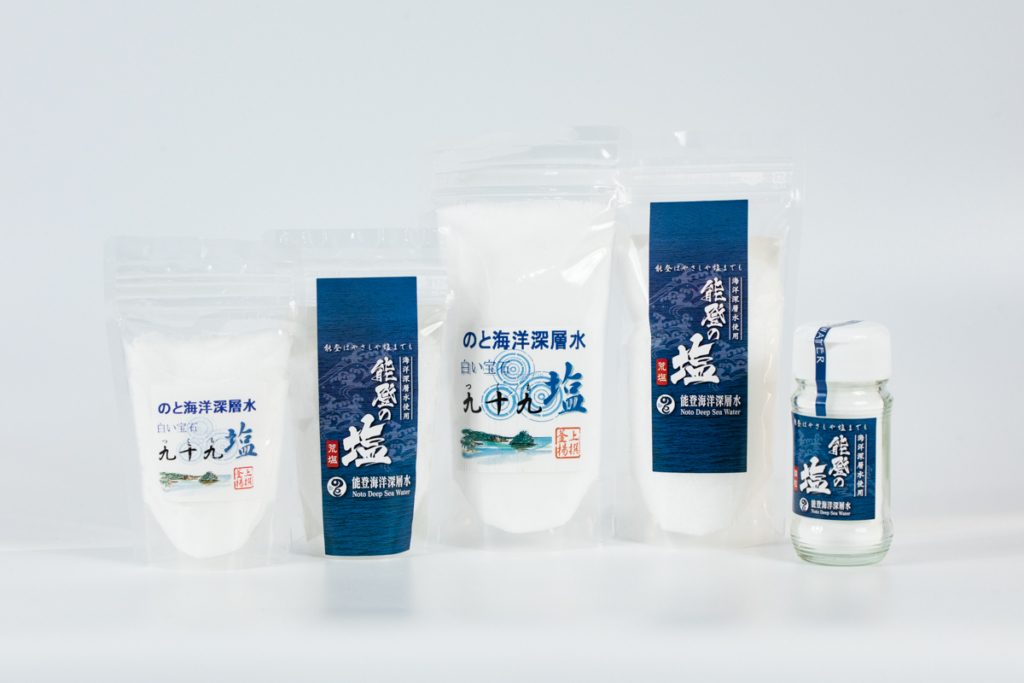 Salt of Noto deep-ocean water, Noto
As for Noto deep-ocean water, there are features such as being superior from depth of the water 300m circulating in the Sea of Japan said to be water peculiar to Sea of Japan in "cleanliness-related" "eutrophy characteristics" "aging-related" "mineral characteristic" "low temperature stability" with deep-ocean water in deep place.
Noto deep-ocean water facility is Ogi, Ishikawa offing about three. We draw water from the 7-km mark, depth of depth of the water 320m and, in the only deep-ocean water facility in Ishikawa, supply concentration water and de-salt water other than Haramizu.
Salt of Noto concentrates deep-ocean water which drew water to 1.5 times and manufactures salt at temperature that is with 60 degrees Celsius or less of by the non-open fire type low temperature manufacturing method for five days.
As only approximately 90 kg are made from about 3 tons of deep water, quantity of production is up to approximately 6 tons a year, but can leave produced mineral characteristic of balance by this manufacturing method.
Village riches of the soil
In Noto-cho, the whole area is considered to be intermediate and mountainous area, and paddy-rice farmhouse occupies most of because there are climate with heat and cold difference and pure water. Rice which farmers put great deal of effort in small farm and cooked can promise to be delicious with confidence as much as it takes effort.
In addition, strawberry, blueberry are special products of town, too. AKASAKI strawberry of kind called "takarakososei" cultivated on AKASAKI plateau is very sweet, but hurt does not turn in shipment early. Please come for strawberry picking because you can taste only locally. Blueberry is the maximum planted area in Ishikawa, too, and artefacts such as blue Berri jam or ice are substantial, too. Of course we pick, and there is experience, too.

AKASAKI strawberry
Flesh is soft, and the feature of AKASAKI strawberry (kind "takarakososei [hokouwase]") is that sweetness is very strong, but it is "fantastic strawberry" not to readily get in urban area as it is difficult, and most pick, and it is garden, or distribution is used in the property in Noto district. When it is at "AKASAKI strawberry Land" spreading out all over the AKASAKI plateau that the Sea of Japan can overlook in season, the area whole area drifts in sweet flavor, and many repeaters visit.

Blueberry
Blueberry of Noto-cho is the golden age of crop from around the beginning of July through the beginning of August. We include dietary Fiber and mineral, vitamin in blueberry abundantly.
At each farm of our town, there is blueberry hunting that many people can taste delicious blueberry with fresh. In addition, homemade jam, jelly using blueberry from hometown are popular, too. Please taste.

Noto beef
There is little annual shipment head count and, in black-haired Japanese cows which met standards such as more than fleshy substance class A3 or B3 or more, almost circulates only in Ishikawa. However, Noto beef which was brought up in simple climate which beautiful nature and sea breeze of Noto blew of fleshy substance is smooth, and oleate content in fatty acid is rich, and flavor is good, and is unforgettable taste when texture melting away eats once.

Mushrooms (moss)
Noto has beech and various types of forest including Japanese red pine and is area having abundant mushrooms. "Konomi bamboo" produced only in Oku-noto area is handled as high-quality article along with matsutake mushroom in hometown. We can eat various types of mushrooms by cooking only by Noto, and, in Noto-cho, many tourists visit for mushrooms dishes of Noto when it is season every year.